Conversation around women in conservation
22 JAN
Saturday
17:00 Asia/Kolkata
Where :
https://meet.google.com/keb-khof-ywh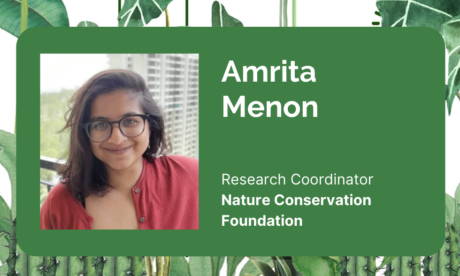 Block Pattern: Regular
Details
About the speaker: A Research Coordinator at Nature Conservation Foundation, Amrita is an ecologist currently working on large carnivores of South India. With an International Masters in Applied Ecology under Erasmus Mundus program, she's had the opportunity to work in amazing ecosystems across continents on the ecology of amphibians, sea turtles and bats. She constantly seeks to apply her research to on-ground conservation and hopes to expand her efforts beyond borders soon.
What will you learn: In this session you'll learn about:
Ideas on how to start thinking about a career in environmental science/wildlife conservation
Potential avenues to explore in the wildlife conservation sector
How to get involved with organisations through volunteering and internships
How to build your CV with transferable skills to succeed
Share useful resources, websites to look out for
Practical tips and advice on how to approach people you want to work in this sector
Resources:
Glimpses from the session: